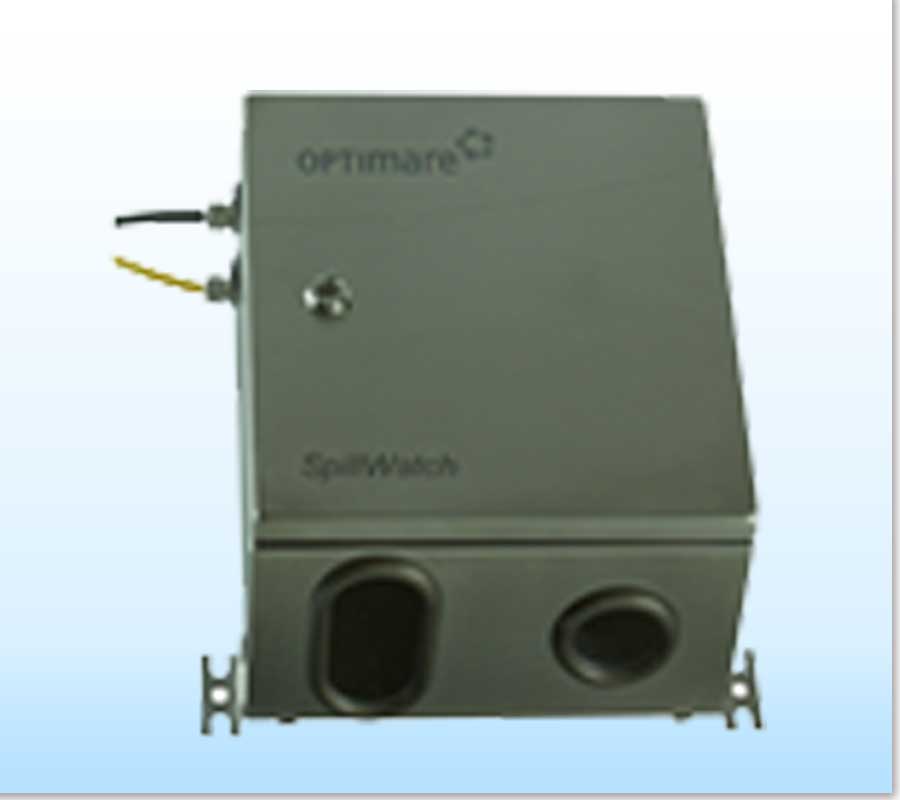 APPLICATION
Real-time around-the-clock detection and control of oil spills for
Petrochemical industry, pipelines
Harbors
Desalination, intake protection
Aquaculture
Fresh, brackish or saltwater environments
Highly effective LED-based excitation
Cost effective, low maintenance
Non-contact measurement
Flexible configuration of data output
Multiple interfaces network connectivity
Ruggedized design (IP66)
Overview
The detection of petroleum products, including crude oil, diesel/fuel oil, motor oil, lube oil, gasoline, food oils etc. near the water surface is widely required in industrial and environmental applications. A timely alert enables countermeasures not only limiting damage to the environment but also reducing cost for remediation and clean-up. The system pays itself with the first spill prevented.
Technique
The SpillWatch sensor is installed downward looking several meters above water level. The sensor technology is based on fluorescence excitation and detection. Its innovative optical set-up and all-solid-state opto-electronic components guarantee high sensitivity and allow maintainance free operation for a period of two years. The system automatically filters out ambient conditions (e.g. sunlight), providing highly reliable detection under all light, weather and water surface conditions.
Action
In case of a spill, the SpillWatch provides an instant warning, enabling users to activate countermeasures, e.g. shutting off pumps or valves and notify personnel via a variety of interfaces and wireless options. The SpillWatch is designed and manufactured for deployment in rugged settings. The non-contact installation above water eases installation and operation and eliminates problems such as bio-fouling. SpillWatch sensors can be used as stand-alone monitors or within a network of strategically mounted sensors interconnected by the SpillMaster software.