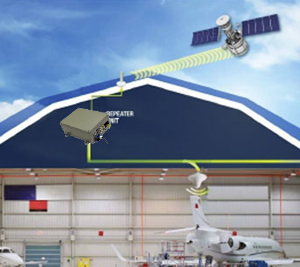 We are offering a unique, Inmarsat GPS & GNSS Fiber-based Repeater solution for Inmarsat BGAN satellite terminal coverage. The repeater enables transmission of Inmarsat GPS and GNSS signals from outdoor to indoor. This solution, which provides Inmarsat coverage to bunkers and aircraft hangars, saves money because there is no need to take aircrafts out of the hangars each time avionics systems need to be tested.
The Inmarsat fiber repeater system is supplied as a ready-to-install kit that includes an outdoor rated unit (ODU*), an indoor unit, cabling and antennas. * ODU unit is supplied with an IP65 outdoor-rated, AC to DC power supply
A dual-zone system is available for a hangar that requires double the coverage or separate support area.
The fiber optic cable between the indoor and outdoor units enables remote and flexible placement of outdoor antennas.
FEATURES & BENEFITS
Testing can be done indoors at any time and in any climate
Easy to install and maintain
Quick return on investment (ROI)
Fiber optic benefits: Low RF transmission loss, improved signal quality, lightning protection
Savings on aircraft tug and technical personnel
Savings on heating and cooling costs
Delivery time is improved because the entire testing process is faster
PRODUCT SPECIFICATIONS
| Downlink (DL) | Value |
| --- | --- |
| Frequency Range - Bandwidth | 1525–1559MHz |
| RF input/ RF output VSWR | 1:1.6 |
| DL RF input signal range | Up to -20dBm |
| Downlink gain | 48dB (±10dB Adjustable) |
| DL Noise figure | <5dB |
| Uplink (UL) | Value |
| --- | --- |
| Frequency range | 1626.5–1660.5MHz |
| RF input/ RF output VSWR | 1:1.6 |
| UL RF input signal range | Up to -20dBm |
| Uplink gain | 48 (±10dB Adjustable) |
| UL Noise figure | <20dB |
| GNSS Support Specifications | Value |
| GPS support type | L1/L2/L5 |
| GLONASS support | E6/E5 |