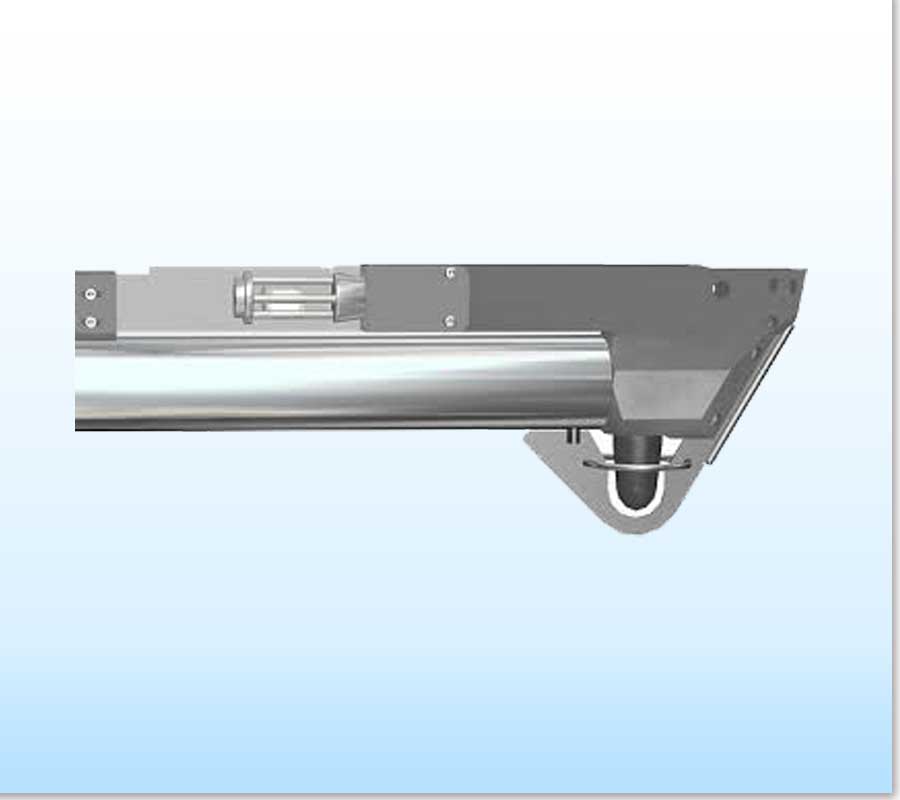 A key component in Sonardyne's SIPS 2 System, XSRSs (Cross Streamer Ranging System) are intelligent acoustic devices used to measure one way slant range distances underwater.
The Type 8018 is equipped with a direct reading sound speed sensor. This 'time of Flight' sensor provides superior accuracy and ease of use compared to the more traditional CTD methods, particularly in areas affected by fresh water and salt water mixing.
The units are battery powered and are mounted on the streamer sections using industry standard collars. The XSRS units communicate with the XSRS controllers by means of the inductive coils and communication circuit within the streamers.
The design of the XSRS is based around a proprietary application specific integrated circuit (ASIC). The ASIC enables the decoding of the digital acoustic signal using digital signal processing (DSP) techniques. The unit has four receiver channels and one transmit channel.
Each receiver is capable of receiving 1 of 60 unique digital signals. The use of digital acoustic signals and digital processing techniques enable the XSRS to transmit and receive signals in the same event. In addition, they are able to transmit and receive SIPS 1 style tone burst for cross wake ranges.
The Type 8018 XSRS units are powered by individual standard C-size alkaline or long-life lithium cells. The XSRS units have been designed to be very energy efficient, with over 80% of the available battery power being transmitted into the water.
Technical Specifications :-
Feature
Alkaline
Lithium
Long-Life Lithium
Operating Frequency
EHF (55-110kHz)
EHF (55-110kHz)
EHF (55-110kHz)
Transmit Source Level (Controllable)
Max. 190dB re 1µPa @1m
Max. 190dB re 1µPa @1m
Max. 190dB re 1µPa @1m
Receive Sensivity (Controllable)
73dB re 1µPa @1m
73dB re 1µPa @1m
73dB re 1µPa @1m
Acoustic Range Resolution
5mm@ 1500 ms Vp
5mm@ 1500 ms Vp
5mm@ 1500 ms Vp
System Sync Resolution
75mm @ 1500 ms Vp
75mm @ 1500 ms Vp
75mm @ 1500 ms Vp s
Immunity to Multipath
System can resolve bottom bounce/surface bounce greater than 0.3m
Number of Digital Acoustic Signals
60
60
60
Number of Tone Acoustic Signals
6
6
6
Number of Received Channels
4
4
4
Sound Velocity Range
1400 – 1600 metres/second
Sound Velocity Resolution
0.01 metres/second
Sound Velocity Accuracy
Total max theoretical error +/-0.06 metres/second
Battery Life (Typical)
5-6 Weeks
9-11 Weeks
15-18 Weeks
Weight In Air
7.3kg
-
-
Weight In Water
3.0kg
-
-
Features:
Integral direct reading sound speed sensor
Choice of Alkaline, Lithium or Long Life Lithium batteries
Compatible with HGPS transceiver
Capable of receiving 16 ranges per cycle
Designed to transmit to an unlimited no of units
Flash upgradeable firmware
Sealed electronics compartment